BusinessMeetingsEvents
Pinnacle Weddings
A Unique Seaside Wedding Venue in North Vancouver
From a small intimate wedding to a grand reception celebration for 500, Pinnacle at the Pier in North Vancouver is proud to offer you a beautiful wedding venue and all the assistance that you need. For starters, your personal wedding coordinator will walk you through the planning process, making sure every detail is covered. And space is not an issue as we have the largest wedding reception venue available in North Vancouver. With 8,000 square feet, we can configure the right space or room size for any size wedding celebration.
8, 000 Sq. Ft of Space
10 to 500 Guests
Complimentary WiFi
Dedicated conference services manager
An Unforgettable View and A Photographer's Dream
Indoor or outdoor, ours is an inspirational setting for your wedding, with 16' high ceilings and floor-to-ceiling glass that highlights our spectacular ocean views and the downtown Vancouver skyline. Ceremony or reception, your guests will be treated to an awe-inspiring view.
"The wedding reception was amazing, the staff super attentive and very friendly. The food was absolutely delicious and every guest I had a chance to ask about their food said the same thing. I noticed the staff was great at making sure plates and empty drinks were cleared right away. I would love to do that reception all over again – it was so much fun. I would recommend this venue to everyone who may be looking for a wedding venue."

Kathleen Ventura, Bride – October 14, 2017

s

"Everything was fantastic! We loved every moment of it. The banquet team did an amazing job, the food was delicious and we couldn't have asked for a better day! The hotel even provided us with chocolate covered strawberries and champagne! And the personalized bathrobes were so soft and comfortable."

Eleanor Winger, Bride – October 8, 2017

"Don and I had a blast at our wedding reception! The venue is beautiful, food spectacular and your team is amazing, very nice and considerate. I only heard good things from my friends and family all night. We are all super, super happy with how everything turned out :)."

DCharlene Abaquin, Bride – August 26, 2017
Pinnacle Ballroom
The heart of the Pinnacle Hotel at the Pier's wedding space is its 4,800 square foot Pinnacle Ballroom—with 16 foot high windows and warm natural wood accents. As is, the ballroom can accommodate up to 500 people for reception and 330 people for dinner. Glass front walls of the ballroom allow for natural light to stream in. A large entrance to the ballroom provides pre-function space of 900 square-feet for receptions or entertainment.
Pier Salon
Additional wedding space includes the Pier Salon at 2,385 sq. ft. This function space is ideal for wedding receptions and dinner dances with an unobstructed view over Burrard Inlet towards the Vancouver City skyline. As a whole, this venue will seat a maximum of 80 with the added bonus of an adjacent outdoor terrace.
Roof Top Terrace
Looking for something beyond the ordinary? Then our rooftop is a must see. The Pinnacle Hotel at the Pier's 1,250 sq. ft. outdoor terrace is the ideal location for your wedding ceremony for up to 150 guests - showcasing a panoramic view of Burrard Inlet and the Vancouver city skyline. The hotel's spectacular location with waterfront views, offers photographers an opportunity to capture your wedding memories in a picturesque setting. Ask your Conference Service Manager about our Terrace Wedding Package.
A Spectacular Wedding Facility
This is what you can expect when you book your wedding ceremony and reception at the Pinnacle Hotel at the Pier. The range and scale of our event venue is impressive, yet inviting; the service is top drawer with focus on skill and understanding our clients and the accommodations are graced both by elegance and comfort. All of our special event rooms have generous pre-wedding space to accommodate your wedding cocktail reception prior to dinner.
Rooftop Ceremony
Looking for something beyond the ordinary for ceremonies up to 150 people? Our rooftop terrace has an opportunity for your outdoor ceremony you simply must see.
Guest Rooms
Modern in design, with comfort and beauty in mind, our 106 thoughtfully designed rooms are elegant and sophisticated with a hint of history reflecting their waterfront location.
Health & Wellness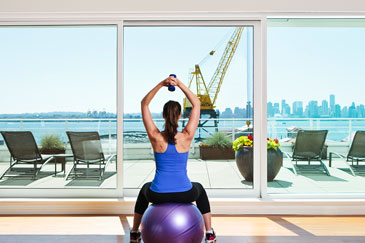 An entire floor of the hotel is dedicated solely to personal health and wellness with state-of-the-art equipment, swimming pool, saunas, steam rooms and a hot tub.